HiPhi x Epic Games: HMI Realizes Real-Time Interaction and "One-shot" Smooth Operation
Can games be integrated with cars? Is HMI just a mobile phone on wheels? What does sitting in a "true 3D" digital cockpit feel like? When you sit in HiPhi Z, a premium all-electric supercar-inspired GT, these questions will be answered. At its core is the application of Unreal Engine to the HiPhi Z HMI system for the first time in China, which is the fruit of the collaborative co-creation of Human Horizons HiPhi and Epic Games, the world-renowned gaming company. This successful case of crossover integration of games and cars makes the HMI no longer just a mobile phone on wheels, but a "true 3D" digital cockpit that can realize real-time rendering.
Photo credit: @小商的拍车日记
China's first "true 3D" digital cockpit based on Unreal Engine
The automotive industry today is charging towards electrification, and an HMI system with rich interactive content and smooth operation has become a necessary feature of an intelligent connected vehicle. In the traditional sense, to achieve realistic rendering effects, a large amount of computing power is needed for real-time rendering processing, yet the computing power of the chip is a bottleneck for the intelligent cockpit and HMI, compared to high-performance PCs and hosts.
Unreal Engine is a global, open, advanced real-time 3D creation tool that has provided creators with unprecedented freedom, fidelity, and flexibility to create next-generation real-time 3D content and experiences in game development and across industries. Human Horizons HiPhi has an industry-leading H-SOA open electrical and electronic architecture, enabling a new application concept of "vehicle defined by software" and "design defined by scenarios".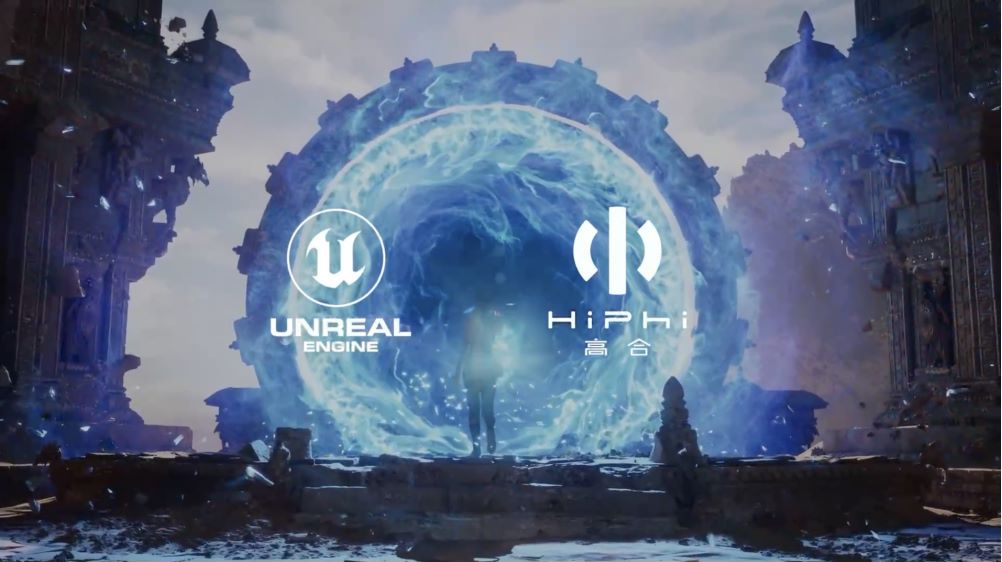 Since November 2021, Human Horizons has reached a company-level strategic partnership with Epic Games in the areas of HMI, visual simulation, online and offline configurators, and virtual showrooms. Based on H-SOA, an open electrical and electronic architecture, HiPhi has proactively broken the boundaries of the business, connected the fragmented sites, services, and applications, and applied "true 3D" to the HiPhi Z digital cockpit with the help of the mature visualization material system and a perfect toolchain provided by Unreal Engine. The cockpit achieves real-time perception of the environment by real-time rendering and realizes free human-machine interaction with "one-shot" and "digital twin" features. Combined with HiPhi Bot, which adopts an intelligent multi-axis displacement system, these technologies create an intelligent cockpit experience that can satisfy the combination of motion and multi-dimensional interactions.
On HiPhi Z's central control screen, the 3D vehicle model on the homepage supports a 360-degree dynamic interaction display whose fine image quality is not compromised when the image is rotated or zoomed in. The single-engine model driver allows multiple scenarios to be loaded at once, so the one-shot animation transition effect of switching scenarios between inside and outside the vehicle model is smoother and more consistent. In addition, the vehicle model can adapt its effects to changing scenarios, presenting rain and other weather with scenario animation effects. In the future, the system will also include road detection based on sensors outside of the car, making scenario rendering more realistic.
The "what you see is what you get" vehicle control desktop enables an easy-to-use interactive experience. Users only need to find the corresponding function adjustment according to the animation to adjust functions such as car doors, windows, temperature, wind directions, and seats.
Starting from design, Human Horizons unleashes future creativity by digitalization
Human Horizons' crossover integration of Unreal Engine advances the concept of "design defined by scenarios, vehicle defined by software, and value defined by co-creation", creating distinctive products and experiences for users. At the same time, the application of new technologies also expands the bandwidth for innovation and provides a powerful tool for innovative experience design, allowing the time required for vehicle design to be optimized and iterated.
The real-time interactive Unreal Engine fits perfectly with the open and inclusive organizational structure of the Human Horizons team, eliminating data barriers and platform incompatibilities, and enabling the efficient reuse of digital assets. The original parametric models at the design stage can be directly imported as asset libraries and later used for high-quality rendering of images, videos, VR/AR, commercials, etc., effectively avoiding the production cost of multiple data sets and conversion between different tools and processes, greatly improving work efficiency and effectively reducing costs.
In addition, Human Horizons stays tuned for the development of digital tools and reflects on whether new tools can bring new experiences on innovative technologies. Digital tools such as Unreal Engine can stimulate the creativity of design teams and help them present innovative ideas in just a few minutes that would have taken nearly a week or even weeks in the traditional era.
Photo credit: @小商的拍车日记
Human Horizons is committed to redefining human mobility. With the "3-Smart" Strategy: Smart Vehicle, Smart Transportation, and Smart City, we integrate the essence of the traditional automobile industry and the technical strengths of AI, Internet, information, and communication technology to create a new breed of epoch-making intelligent cars: HiPhi. A "true 3D" digital cockpit with more freedom, authenticity, and flexibility is created by the Unreal Engine based on forward-looking design concepts and creativity, realizing an ultra-futuristic and free interactive experience.
Previously, HiPhi Z's 3D HMI was nominated for the Most Anticipated Title of 2022 at the Unreal Open Day 2022.